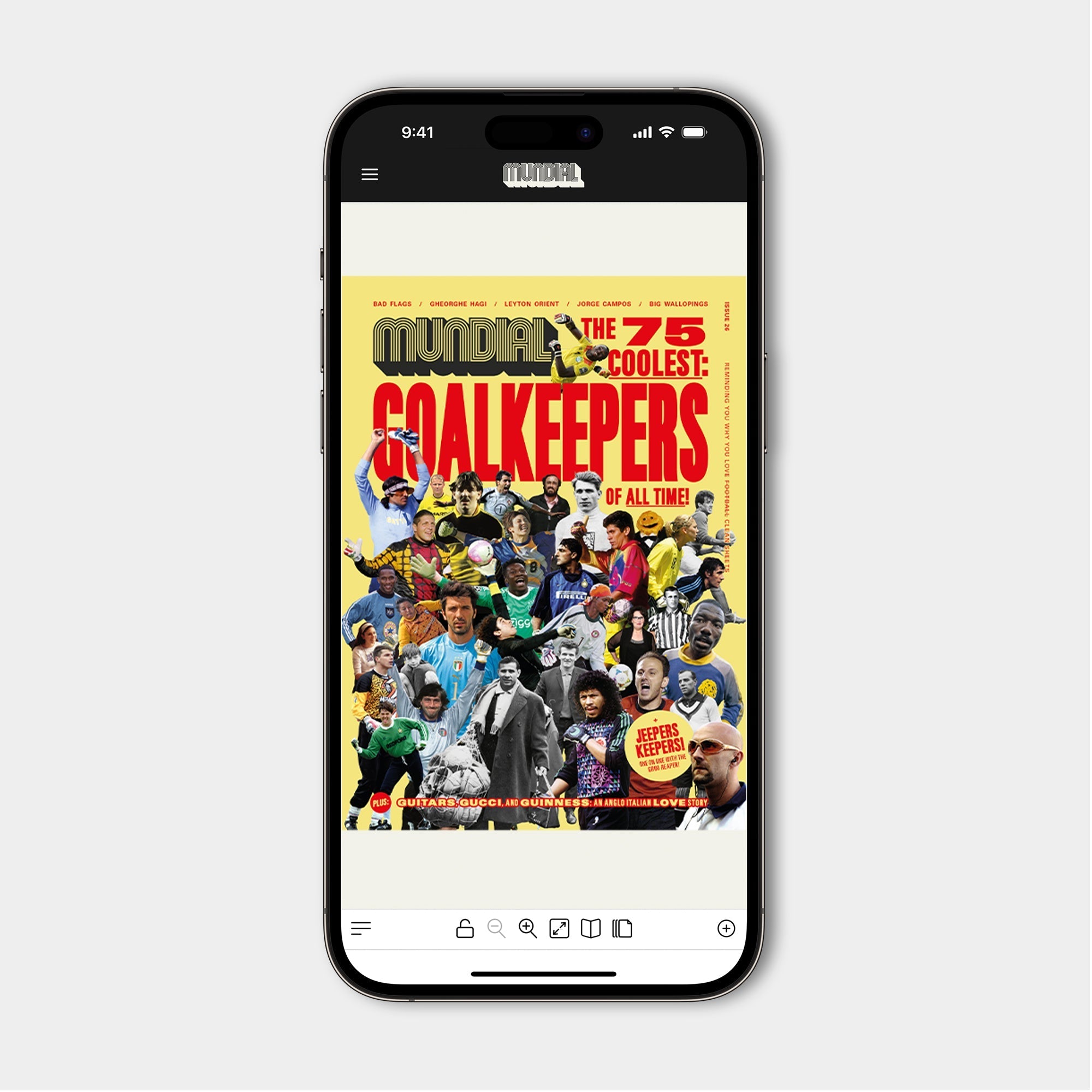 MUNDIAL DIGITAL SUBSCRIPTION ($1)
$1 OFFER ADDED AT CHECKOUT
Subscribe now and get your first issue for just $1*
Discount added at checkout. *Price will revert to $9.99 upon renewal. Billed quarterly, cancel whenever you want.
What is in the subscription?
100-PAGE MAGAZINE 4 TIMES A YEAR*


WORLD CLASS CONTENT FOR WORLD CLASS FOOTBALL FANS


20% OFF ALL MUNDIAL MERCHANDISE
1000+ BRAND PARTNER PRODUCT DISCOUNTS - INCLUDING CLASSIC FOOTBALL SHIRTS, PERCIVAL, ALLPRESS ESPRESSO & ART OF FOOTBALL
SUBSCRIBER EVENTS - INVITES TO TOURNAMENTS, LIVE SCREENINGS, PANEL TALKS & LAUNCH PARTIES.

*Price shown is per issue, price will revert to $9.99 upon renewal, billed quarterly, cancel whenever you want. Delivery information below.


LOOKING TO TRY BEFORE YOU BUY?
DISCOVER SUBSCRIPTION PERKS
100 PAGE MAGAZINE - PRINT OR DIGITAL
Four times a year, you get the best timeless football stories. Stories about cult heroes you've never heard of and last minute winners. It's football culture, history and lifestyle for fans who want to learn, laugh, and remind themselves why they love football.
20% OFF ALL MUNDIAL MERCHANDISE
You receive 20% off all MUNDIAL merchandise - socks, tote bags, scarves, t-shirts, caps, t-shirts, hoodies, mugs, door stoppers, pin-badges, posters and more. You will also receive first access to exclusive product collaborations with MUNDIAL certified brand partners.
1000+ PARTNER PRODUCT DISCOUNTS
Get discounts on 1000+ products from handpicked brands including 10% off Classic Football Shirts, 20% off Percival Menswear, 10% off AllPress espresso and 10% off Art of Football.
MUNDIAL SUBSCRIBER EVENTS
MUNDIAL events are a big part of what we do. Throughout the year, you will receive invites to tournaments, screenings, panel talks, and just straight-up parties. Subscribers get priority to all events and have the chance to meet and mingle with a like-minded football community.